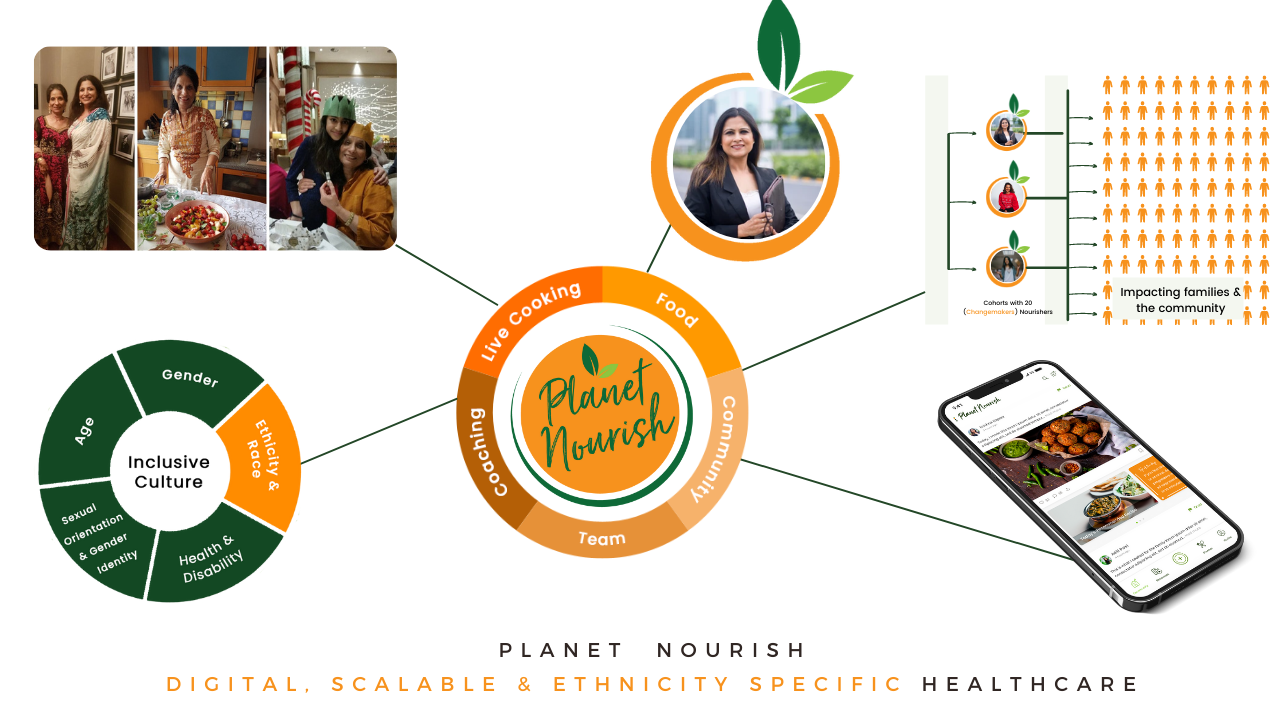 Planet Nourish is set to become a gamechanger by linking heritage and health for the first time. It is one of the pioneers of the digital healthcare revolution and here's why;
"The digital healthcare revolution won't come from people inside the healthcare system but it will come from patients, innovators, technologists, around the world who live outside the healthcare system and want to make it better."
Dr Joshua Liu – CEO & Cofounder of SeamlessMD
Angela Malik-Agarwal is one of those people and is the CEO and founder of Planet Nourish. Planet Nourish was born from Angela's experience with her mum Neena's recovery from illness.
Neena moved from Jalandhar, India, to Edinburgh, Scotland, 50 years ago. She has cooked, eaten, and fed her family with delicious and comforting home-cooked Punjabi food for over seven decades. When she fell ill she was told she had to change her diet to aid her recovery.
After attending NHS dietary clinics, no one could help Neena adapt her staple food of two rotis, alu gobi and daal to be healthier.
"All the nutritional advice was geared to a Western European diet."
Angela – CEO & Founder of Planet Nourish
Neena was told to "eat more eggs", "try bone both", but none of this resonated with her as a 70-year-old, vegetarian, Hindu woman. She had never eaten meat, fish or eggs in her life and would not be able to start now.
Asian and Black people in the UK are over two times more likely to suffer from a diet-related illness, however, there is extraordinarily little dietary advice tailored to these communities, particularly for those over 60 and the elders are the hidden minority in this.
As a daughter in an Asian family, Angela knew that she had to take the lead and help guide and influence her parents to a healthier lifestyle.
"I know how much I can influence and guide my now elderly parents. I knew if couldn't find recipes, menus, and videos to help Mum adapt, then others like Mum must be struggling with this problem too. So, with my chef hat firmly in place, I decided to take on the challenge and create a solution to this problem. Thus, Planet Nourish was born."
Angela – CEO & Founder of Planet Nourish
Fast-forward 2 years, Planet Nourish is now one of Europe's hottest new start-ups transforming the treatment of diet-related conditions such as Type 2 Diabetes (T2D) and obesity in people of colour. They are linking heritage to health for the first time. Using technology, they deliver ethnically tailored and culturally specific treatment programmes.
The Planet Nourish digital programme has been specifically designed for South Asians, addressing the challenges they experience whilst celebrating their culture.
The Planet Nourish Changemaker
Planet Nourish is founded on the belief that the best healthcare is rooted in the celebration of food, family and community. By building an online destination for all things South Asian health and wellbeing. It is a place where people feel comfortable sharing their personal goals, family challenges, exchanging tips, and swapping recipes. Focussing on women as the key "changemaker" in South Asian families, Planet Nourish programmes empower what they call 'nourishers' to influence their partners, children, intergenerational elders and wider family.
This creates a ripple effect of positive change and referral multiplier.
South Asians Represent A Quarter of The Globe's Population
Planet Nourish is currently delivering digital behaviour change programmes to prevent and manage T2D in South Asians in the UK. Well, at least that's where they're starting, South Asians are a huge demographic.
They are 6 times more likely to have T2D and at increased risk of other diet-related conditions. They are a complex mix of races, religions, diets and they represent 25% of the global population. Below is an example of the ethnic mix from just one of their cohorts.
Planet Nourish Is Female Founded & Female Led
Planet Nourish boasts of a female-led team of multicultural expert chefs, dietitians and techies with a passion for food and wellbeing and they are mostly of South Asian heritage. They come together to solve a health crisis in communities of colour that they all know well and live with every day. They hail expertise from companies such as Just Eat, KPMG, NHS, PWC, Conde Nast, Diabetes UK and are backed by experienced angel investors namely Saasha Celestial-One (Co-founder Olio) and Priya Oberoi (Lead Partner Goddess Gaia Ventures)
Recipes Are Searchable By Ethnicity, Regional Background & Religion
Via the Planet Nourish App, Planet "Nourishers" (users) can interact with their cohort and coach, book 1-2-1 dietitian appointments, attend live cooking demos, create personalised meal plans. The app allows their nourishers to track carbs and achieve a balanced way of eating by 'rating your plate'. Clickable menus and recipes can be searched by specific ethnicity, regional background and religion because not everyone eats the same thing. Not only can you plan your meals, but you can add ingredients and food items to the food basket of your favourite supermarket as you go.
Gamification & AI in Digital Healthcare
Our gamification, Vision AI and machine learning algorithms will create highly personalised recommendations.
"Digital transformation of healthcare is not just about adopting new digital technology. It's about reimagining healthcare for the digital age – using the power of data, AI, cloud-based platforms, and new business models to improve health outcomes, lower the cost of care, and improve the human care experience for patients and staff alike."
The Results Speak Volumes
They have seen incredible results so far with Nourishers achieving on average 5% weight loss, a reduction of blood glucose levels, a reduction or stopping of diabetes medication, increased knowledge, motivation and confidence, and with 87% saying they felt more confident preparing lower-carb family meals.
Where Are They Now
The acquisition has been via tie-ups with GP surgeries and pharmacies, partnership with a British Pakistani dietitian who has 300,000 followers and local community groups. Their business model is B2B and they are in discussions with D&I employee wellbeing initiatives and health insurers in the UK and the Middle East. 
"Planet Nourish patient outcomes in six months have beaten the NHS & other competitors with over 60% of our users losing 5% of body weight and reducing blood sugar in 12 weeks, delivering life-changing clinical and non-clinical changes to our nourishers."
Angela – CEO & Founder of Planet Nourish
The business has been bootstrapped to date by the founders and secured early funds from a well known EU entrepreneur and VC lead partner and have an unbeatable value proposition.
Be A Part Of The Revolution Of Linking Heritage To Health
Do you want to be part of the Planet Nourish Digital Healthcare revolution? Where health and heritage are linked for the first time? Planet Nourish is currently fundraising to take its mission of Equitable Healthcare for all to the next level and is looking for Investors.
They are also looking to pilot their programme with companies eager to improve their south Asian employee's health as a diversity and inclusion initiative.
With the first product digital behaviour change programme to manage T2D in South Asians in September 2021, Planet Nourish has happy paying customers.
They are now looking to raise £250K-500k in two tranches for our pre-seed round to build the tech stack and scale-up programme delivery.
Contact Angela Malik-Agarwal at angela@planetnourish.com and be a part of Planet Nourish!